New Crypto Wallet Makes Asset-Swapping Easier
January 12, 2023
Bitcoin has opened the road for the creation of the cryptocurrency industry, and it has ballooned into a global market. There are now over 20,000 different cryptocurrencies today, giving businesses and consumers more trading and transaction options.
With such a huge market, it is not a wonder that there is also a demand for easy-to-use yet secure crypto wallets. RockWallet is one of the newest apps that is equipped with innovative and convenient features, RockWallet is a new multi-currency and self-custodial crypto wallet that makes it easy to swap digital assets, giving customers confidence in getting into the world of crypto trading.
RockWallet flaunts a feature called "Swap" in its interface that enables the user to exchange or trade one digital asset for another. So far, RockWallet allows users to swap between the following cryptocurrencies: BCH, BSV, BTC, ETH, SHIB, USDT, and USDC. However, users can also store, send, and receive BSV, BTC, USDC, ETH, BCH, SHIB, BAT, LINK, LRC, XRP, USDT, and ZRX. Support for more digital currencies and assets will be made in the future.
In order to make a trade between two different assets, the user needs to make sure that they have verified their account, activated the assets in their wallet, and have enough funds that will cover the swap and transaction fees.
Account verification is aligned with current know-your-customer (KYC) and anti-money laundering (AML) standards, which allows users to have peace of mind that their digital assets are protected. After the most recent FTX collapse and the resulting loss of $8 billion worth of users' money, it is important for people to know that the digital asset platform they are using enforces strict KYC and AML procedures and is regulation-compliant.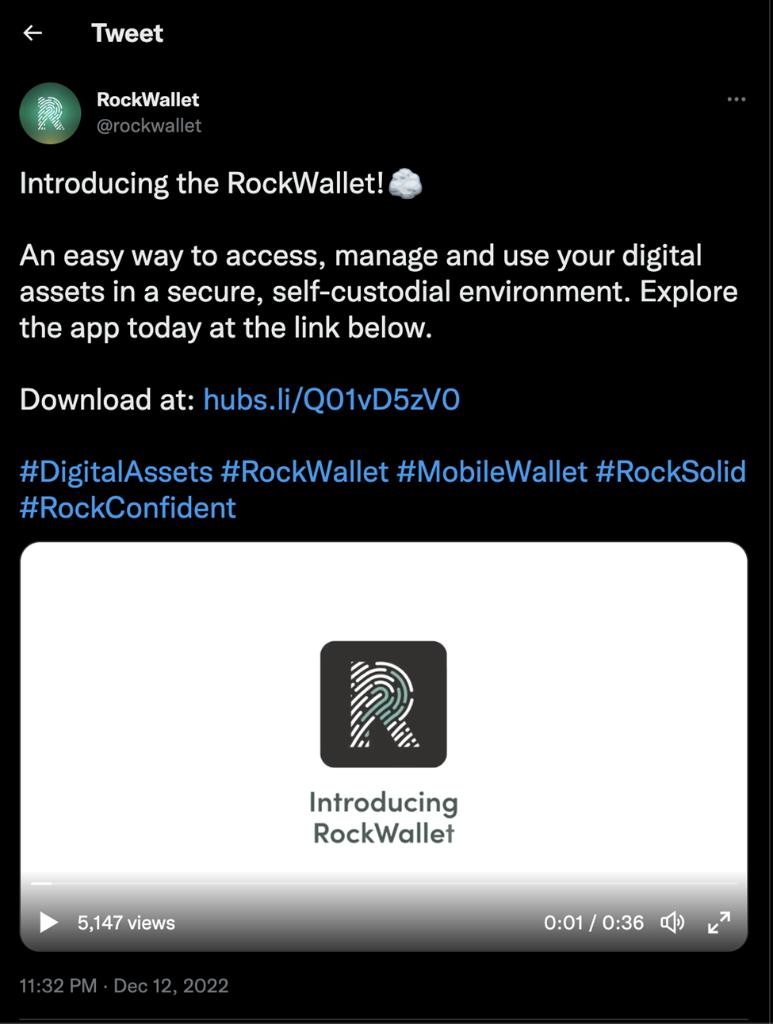 Most of the time, crypto wallet users are shocked by the amount of money they have to pay in order to trade or sell their digital currencies. This is because transaction fees vary depending on the digital currency being exchanged, as well as the volume of transactions being processed. Sometimes, customers do not even know the total amount they paid for until after the transaction has gone through.
RockWallet prevents these kinds of surprises and provides users with total control of their digital assets, meaning the total amount of each transaction is displayed with a breakdown of the fees before making an action final.
This process ensures that users fully know how much they need to pay for before going through with the transaction. It also allows users to monitor when transaction fees go up and down. In this way, they can decide for themselves when the best time to buy and sell their cryptocurrencies.
The minimum amount that can be traded should be equivalent to $30. This can reach to a maximum of $1000 USD per day for verified customers. With full identity verification, the user can swap up to a maximum of $10,000 USD per day. Enforcing these levels of user verification not only minimizes fraud, but also protects users against scams.
Digital asset-swapping remains a service that people need, and RockWallet ensures its customers a fast, uncomplicated yet secure gateway to crypto trading. At this day and age where even major crypto exchange Binance is under investigation, it is best to use a wallet that is 100% regulation-compliant.