1inch Secures $2.8M Funding Round Led by Binance Labs and Top Venture Funds
August 11, 2020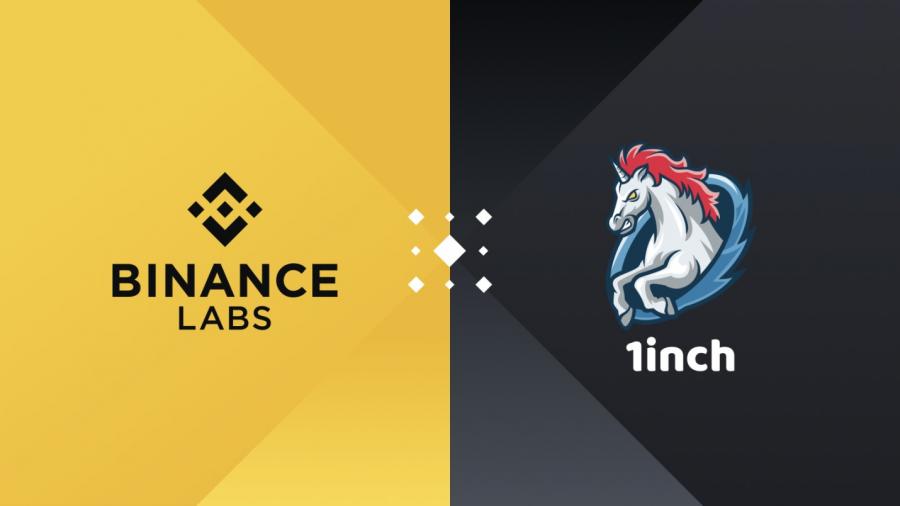 Following its recent surpass of one billion USD in overall volume, 1inch has successfully closed the first round of investments to fuel its exponential growth.
The 1inch team is excited to announce a $2.8M funding round from institutional investors, including Binance Labs, which led the funding round, as well as Galaxy Digital, Greenfield One, Libertus Capital, Dragonfly Capital, FTX, IOSG, LAUNCHub Ventures, Divergence Ventures, Loi Luu, the Founder of Kyber Network, and Illia Polosukhin, the Co-Founder of NEAR Protocol. The first round of investment follows 1inch's recent milestone of $1B in overall volume. The investment round marks a critical point in 1inch's rapid growth.
1inch is a decentralized exchange aggregator that sources liquidity from various exchanges. This high-powered aggregator uses smart contract technology to split a single trade transaction across multiple DEXs – enabling users to optimize and customize trades. 1inch is the leading DEX aggregator and has already integrated support from top DEXs including Uniswap, Kyber Network, Airswap, Oasis, Bancor, Balancer, Curve, and many more.
"DEX aggregation is a critical building block that co-enabled the most recent DeFi boom. It allows executing large order sizes at low slippage rates. 1inch has become the de facto interface for trade execution in DeFi, with aggregate volumes surpassing $1 billion," said Binance Founder and CEO Changpeng Zhao "CZ". "It is of great pleasure to support the 1inch team in their relentless quest to drive user adoption in DeFi."
1inch is quickly expanding its range of products. 1inch's new Pathfinder and automated market maker (AMM) protocol Mooniswap represent a turning point in 1inch's industry impact. Moreover, 1inch provides a platform that allows users to stake tokens and collect revenue from a number of liquidity pools (e.g. Uniswap, Balancer, and Mooniswap).
The Pathfinder consists of a complex search algorithm for swapping routes. This improves the speed and efficiency of the overall 1inch aggregator.
1inch's automated market maker Mooniswap shifts the landscape of liquidity pools. This unique AMM protocol resolves the major issues of impairment loss by reducing arbitrageurs' earnings while increasing liquidity providers' earnings.
With price slippage, users lose significant amounts of their funds to arbitrage traders. When a user swaps a substantial amount of coins, price slippage can deplete user's funds by anywhere from 2% to infinity. 1inch solves this with its own AMM which allows liquidity providers to earn on users' slippages unlike any other AMM on the market today.
In addition, Mooniswap deals with front-running attacks, whereby a malicious node observes a transaction after it is broadcasted but before it is finalized and attempts to get its own transaction confirmed before or instead of the observed transaction. The malicious observer then sells for a better price after the user's transaction in order to earn on that. The Mooniswap is an attractive platform for initial liquidity offerings, largely because it is protected from front-running attacks. Learn more about Mooniswap here.
Sergej Kunz, CEO, and Anton Bukov, CTO, launched 1inch in May 2019 at the ETHGlobal hackathon in New York and in just over a year 1inch has surpassed one billion USD in overall volume. To date, 1inch's daily active wallets have surged from 115 wallets last year to over 1,200 wallets in July 2020, totalling over 17,700 wallets.
"Our team had first met Sergej and Anton at ETHParis in February 2019 where the two pitched a BNB utility project to us. On a subsequent hackathon, the team launched 1inch and after first traction decided to commercialize it," said Binance Strategy Officer Gin Chao.
"Throughout a year our team has grown from just two people up to sixteen – mostly award winning developers from various Ethereum hackathons. At 1inch, we aim to unite traders and liquidity providers, facilitating transactions that are profitable for both sides," said Sergej Kunz, Co-Founder and CEO of 1inch. "The funds raised in the first investment round will be used to further grow the team, to develop our algorithm together with new innovative products and to run marketing activities. We believe that the gold rush in DeFi is in full swing and 1inch has full potential to become the first DeFi unicorn company."
With a funding round under the 1inch belt, the team will continue to expand its growing list of products. In August, the team will release a game-changing algorithm that utilizes 1inch APl to respond in less than a second to find the best trading paths and is completely free for B2B integrations. 1inch will continue to optimize the aggregator's API and integrate with transformative technologies in DeFi and blockchain. Moreover, 1inch soon plans to release its own token, introduce liquidity mining (farming) on specific Mooniswap pools and perform an initial AirDrop based on provided liquidity starting from the Mooniswap's release date.
***
About 1inch
1inch (https://1inch.exchange/) is a decentralized exchange aggregator that sources liquidity from various exchanges and is capable of splitting a single trade transaction across multiple DEXs. Smart contract technology empowers this aggregator to enable users optimize and customize their trades. Launched in May 2019 by Sergej Kunz, CEO, and Anton Bukov, CTO, 1inch has surpassed $1B in overall volume in only 14 months. 1inch has already integrated support for top DEXs including Uniswap, Kyber Network, Airswap, Oasis, Bancor, Balancer, Curve, and many more.
Official Medium: https://medium.com/@1inch.exchange
Official Twitter: https://twitter.com/1inchExchange
Official Discord: https://discord.gg/Xyxv2Yz
Official Telegram: https://t.me/OneInchExchange
About Binance
Binance is the world's leading blockchain and cryptocurrency infrastructure provider with a financial product suite that includes the largest digital asset exchange by volume. Trusted by millions worldwide, the Binance platform is dedicated to increasing the freedom of money for users, and features an unmatched portfolio of crypto products and offerings, including: trading and finance, education, data and research, social good, investment and incubation, decentralization and infrastructure solutions, and more. For more information, visit: https://www.binance.com.
About Binance Labs
Binance Labs identifies, invests, and empowers viable blockchain entrepreneurs, startups, and communities, providing financing to industry projects that help grow the larger blockchain ecosystem. Binance Labs is committed to supporting fast-executing teams who positively impact the crypto space. For more information, visit: https://labs.binance.com/.